Trombone Craft: A musical approach to building tone and technique
---
(August, 2021): Want to save some money. As of August, I have about 30 copies of Trombone Craft with slightly distressed covers. Besides that, the books are fine.
(in short UPS lost them for a while).
Anyway, I'm selling them for a discount of $6 (price = $29).
We all need to build tone and technique.
Why not do it in a more musical way?
Trombone Craft (169 pages) is a comprehensive approach to building the
technical skills needed to play music well.
Here's a quick summary:
• Motivation through musical interest
If students like a piece, they are more likely to spend extra time polishing it.
• Ideas are linked and reinforced
After a page helping students develop D in alternate 4th, for example,
the next page presents two short pieces in E-flat major.
• Pieces of reasonable length
In a lesson, time is precious. Get to the point quickly using short exercises
and half-page etudes.
• A greater variety of key signatures
Don't get stuck in that B-flat / E-flat rut.
• Help with rhythm
Some pages zoom in on common rhythm trouble spots, such as the deadly dotted-eighth sixteenth.
• Cross-referencing to other books
A big time-saver in lessons!
• Patterns to be memorized
Scale and arpeggio patterns with musical shape.
• Bonus appendices focusing on special areas including:
o Developing the Legato Tongue
o Double and Triple Tonguing
o Pattern Building (scales and arpeggios)
o Interval Accuracy
o Developing the High Range
o Tone and Tuning Exercises
o Flow Exercises (sing, buzz, play)
Reviews / Endorsements
This collection of excellent exercises by Brad Edwards gives new fuel to propel our daily routines. A regular visit to this book will undoubtedly help you to play more evenly and consistently and, when used in the precise way that Edwards suggests, will result in your overall improvement. I highly recommend this book to all students and professionals.
Bravo Professor Edwards!

Joseph Alessi, Principal Trombone, New York Philharmonic, Juilliard School
---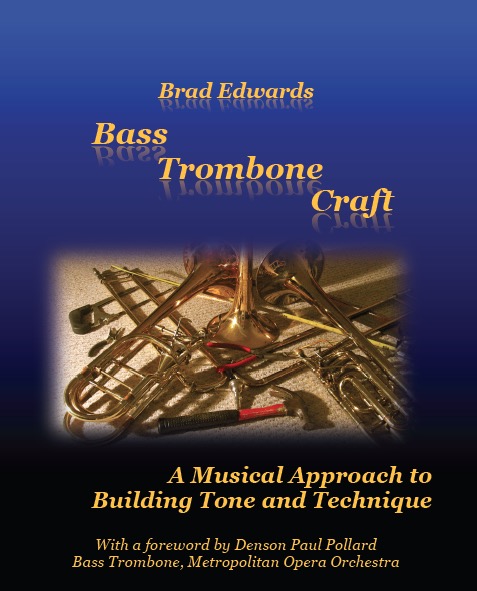 Bass Trombone Craft: A musical approach to building tone and technique
Bass Trombone Craft (185 pages) is a comprehensive approach to building the technical skills needed to play music well.

Here's a quick summary:
• Motivation through musical interest
If students like a piece, they are more likely to spend extra time polishing it.
• Ideas are linked and reinforced
One section discusses valve choices for a key and is followed by short pieces in that key.
• Pieces of reasonable length
Get to the point quickly using short exercises and half-page etudes.
• A greater variety of key signatures
Don't get stuck in that B-flat / E-flat rut.
• Help with rhythm
Some pages zoom in on common rhythm trouble spots, such as the deadly dotted-eighth sixteenth.
• Cross-referencing to other books
A big time-saver in lessons!
• Patterns to be memorized
Scale and arpeggio patterns with musical shape.
• Bonus appendices focusing on special areas including:
o Developing the Legato Tongue
o Double and Triple Tonguing
o Pattern Building (scales and arpeggios)
o Interval Accuracy
o Developing the High Range
o Tone and Tuning Exercises
o Introduction to Tenor and Alto Clef
o Flow Exercises (sing, buzz, play)
Reviews / Endorsements
With Brad Edwards' new book, "Bass Trombone Craft," the teacher and player have a method that can take a young bass trombone player from the basic introduction of the valves all the way to true mastery of the instrument. The book introduces and focuses on every aspect of bass trombone playing, all in one volume. It is a welcome and needed addition to bass trombone pedagogical material that should be a staple of every teacher's curriculum.

Denson Paul Pollard, Bass Trombone, Metropolitan Opera Orchestra